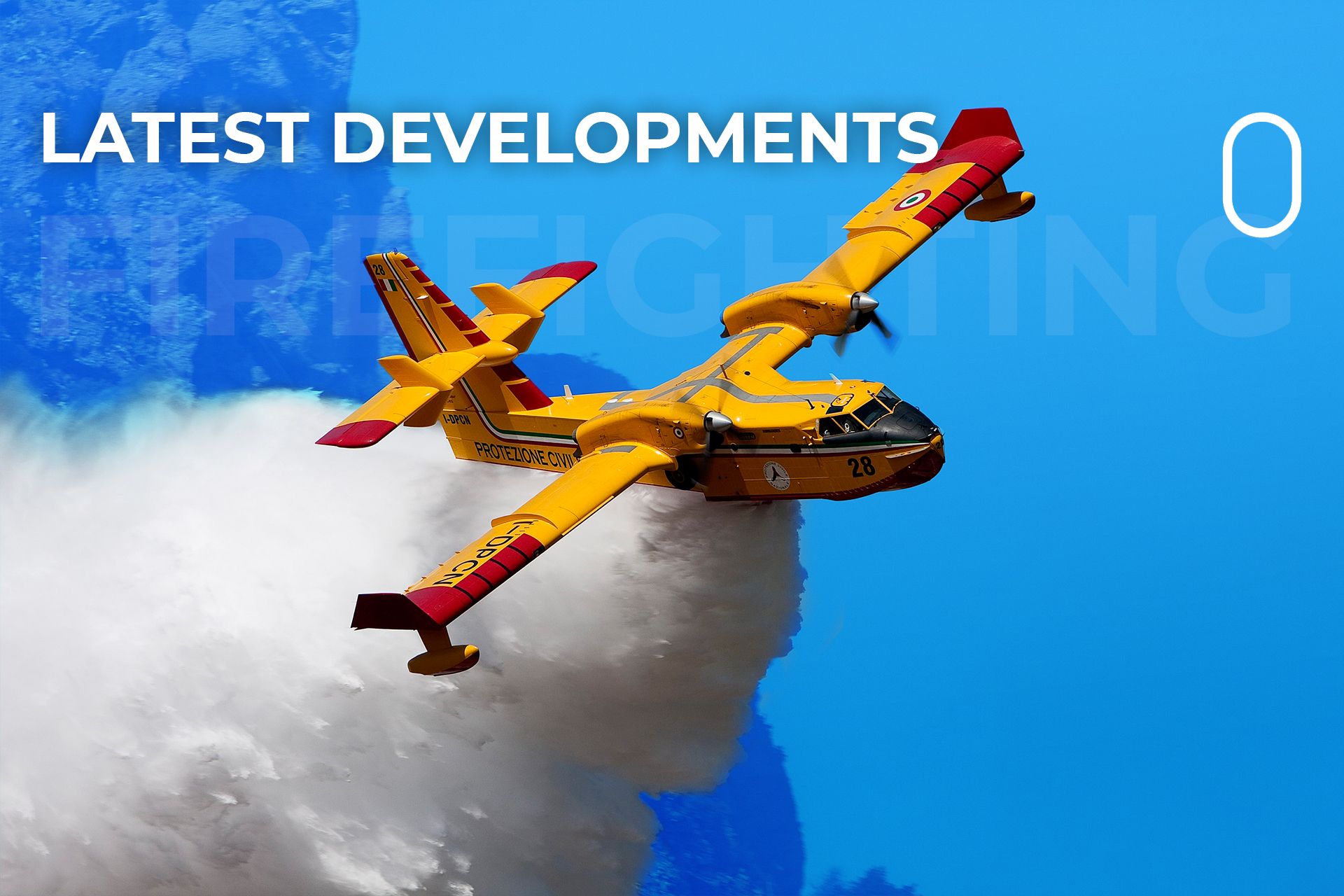 What are the latest research and developments in aerial firefighting?
Many countries around the world are pushing for greater aerial firefighting capabilities amid growing fears over climate change and rising wildfires. Amid lingering concerns, commercial companies, militaries and governments have been proactive in developing various firefighting versions of these aircraft.
Whether it's modifying existing aircraft to adopt firefighting capabilities, developing new aircraft, or retrofitting detachable kits into military aircraft for rapid response, it's clearly become a global priority.
Airbus A400M
Airbus' A400M is a good example of retrofitting a kit into an existing aircraft to provide capability at a much cheaper price. In July, the manufacturer announced that it had successfully conducted a series of tests of its military transport aircraft in Spain, using the removable demonstrator kit.
This was in collaboration with the 43rd group of the Spanish Air Force, the European authorities for firefighting operations and the Ministry of Ecological Transition and Demographic Challenge (MITECO). The goal was to determine how much water the plane could drop and if the kit was viable.
Airbus said the campaign took place in daylight as the A400M would fly at a low height of 150ft and at a speed of 125 knots. The plane would drop 20 tons of water in less than ten seconds.
The four-engine aircraft has been flying since December 2009 and entered service in 2013 with the French Air Force as a launch customer. Airbus built the turboprop to replace aging aircraft, like the Lockheed C-130 Hercules. For comparison, the Hercules and the Boeing 747 Supertanker – both used for firefighting – can carry between 5 and 25 tonnes of water.
Airbus tested a removable firefighting kit in its A400M in July. Photo: Airbus
What makes this kit design is how it fits into the plane. Airbus calls this a roll-on/roll-off (RORO) design that requires no modification to the aircraft. According to the company, the water is stored in a fixed tank in the hold and retained by two doors.
Airbus intends to test the kit under night conditions soon.
Embraer MAFFS II
Brazil's Embraer is closing in on its C-390 Millennium aircraft to perform enhanced firefighting missions. On September 5, the company announced that it had completed flight testing as part of the certification campaign for the Modular Airborne Fire Fighting System (MAFFS II), an improved version of its predecessor developed in the 1970s.
The system is also a RORO design and can drop up to 3,000 gallons of water (11,300 liters) with or without flame retardant water. It can be quickly installed in the aircraft hold and only needs aircraft power to operate.
Embraer carried out the tests at its factory in Gavião Peixoto, in the state of São Paulo, Brazil, the last step before being certified by the Brazilian Military Certification Authority (IFI). The tests included several drops of water in flight, and Embraer said it demonstrated "excellent aspects of ride quality and handling", which is essential for low-speed flying.
Compared to the original MAFFS, the upgraded version replaces five tanks with one large one. The system can be pressurized by a compressor in the air instead of completing this process on the ground, which saves a lot of time. It can also be deployed faster on fire because its loading ramp and door can stay closed, reducing drag.
AG600M from China
China's latest version of the AG600 seaplane, the AG600M, made its maiden flight by taking off and landing on water on August 29. Developed by the Aviation Industry Corporation of China (AVIC), the aircraft registered as B-0DCC successfully took off from Zhanghe Reservoir opposite Jingmen-Zhanghe Airport and, after an 18-minute test flight, landed on water.
The first variant of the amphibious water bomber was supposed to make its first flight in 2014, but it was delayed until 2017. The new prototype was built with several improvements and is expected to start firefighting missions in 2023 and will arrive on the market in 2025. , says AVIC.
Four Dongan WJ-6 turboprop engines power the aircraft, and its maximum takeoff weight is a fairly consistent increase over the previous variant. The AG600 had an MTOW of 53.5 tons, compared to that of the AG600 M's 60 tons. It can allegedly stay in the air for a considerable 12 hours and carry 50 passengers.
Aerotime noted that the size of the water bomber is larger than typical amphibious aircraft and more similar to the single-aisle Boeing 737 or Airbus A320.
Chinese state media CGTN said AVIC conducted several tests during the flight and said it was in good condition. The AG600M conducted its maiden flight from the ground on May 31.
EU to speed up plans to buy firefighting planes
Just months after the European Union said it was in talks with manufacturers to buy more firefighting planes in July, the EU met again on September 5 with its member states. and agreed to expedite these plans and establish a fleet soon. Initially, the production of these helicopters was planned for the second half of this decade, but will probably start earlier.
Forest fires in Europe have been among the worst during the summer of this year. Monday's meeting saw ministers from EU countries and the European Commission discuss plans to advance the purchase of EU-funded helicopters, said Janez Lenarcic, the EU's head of crisis management. EU, in a statement, according to Reuters.
The 747 Supertanker retired in 2021 and has been an integral firefighting aircraft since its first flight in 2006. Photo: Getty Images
"At European level, we have reached our capacity limit. Some devastating fires in some member states actually did not lead to a request for assistance because the countries involved…knew that no capacity would have been available," Lenarcic told the meeting.
Currently, EU countries are responsible for firefighting and can only call on the EU as a last resort. The new planes will be purchased by member states but will be fully funded by the EU, Lenarcic said.
Although no manufacturer has yet been named, Lenarcic revealed that the EU will produce more amphibious aircraft.
Sources: Reuters, CGNT, Aerotime