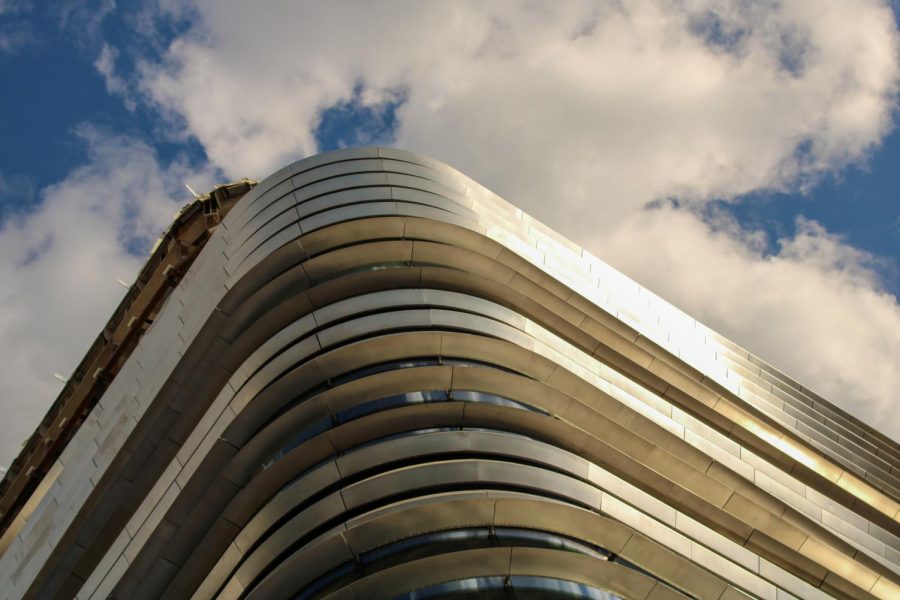 Northeastern's Newest Research Building Nears Completion
While students have seen the construction site looming over Ruggles Station slowly resemble a building over the past two years, the project's final year of construction will bring less visible changes as it progresses. sprint towards completion.
The large construction site is none other than the final building of the complex containing the Interdisciplinary Science and Engineering Complex, or ISEC, and the iconic rust-colored bridge over the Ruggles Railway. The new building is called EXP, which unlike ISEC is not an acronym.
This complex has been under construction since 2012, when Payette architects Kevin Sullivan and Bob Schaeffner won a competition to design the space. When they first dreamed up the swoosh pattern for the bridge crossing the train tracks, they said, they realized the whole complex had to be all about flow and movement.
"We almost thought of it as if the whole site had two hard shells around the perimeter with soft connective tissue in the middle, almost like an oyster or something," Sullivan said. "But when we started thinking about urban design, we didn't want the block to be too monolithic. So EXP is similar in some ways, but different – it doesn't have the same skin.
While it's obvious that EXP and ISEC go hand in hand, the inner workings of the new building may be more of a mystery to some students.
"It's a much more industrial, much more work-oriented, research-oriented, student-oriented building," said senior project manager Jacqueline Valencia, calling the building a "workhorse."
Construction, overseen by Suffolk Construction, began on the $300 million building in spring 2020, at the start of the pandemic. While supply chain delays and high inflation rates have dominated the headlines throughout this project, Paul McAndrew, another senior project manager, said the construction team did not Didn't really feel the effects.
"We did a lot of our buyout before inflation and supply chain issues really hit the industry hard," Valencia said. "So that's not to say we haven't had some of these issues, just not as many as others in the industry."
Now the project is entering its final planned year of construction, with the 350,000-square-foot building opening in the fall of 2023. This fall, project leaders said they will weather-tight the building so that progress can be made on the interior details.
"We have the hull almost done and it's almost done, so the drywall, … the flooring, the paint, the furniture installation, the installation of the audiovisual systems – anything that needs to be protected, we're waiting until 'to have this weatherproof mark so it's a secure space and a safe space to put gear and things,' Valencia said.
The bridge was intended to create a link that extends the campus over the train tracks. Schaeffner said the idea was that no one in the new complex should feel isolated from science programs on the central campus – the bridge is meant to prevent ISEC and EXP from becoming an "ivory tower" .
The opening of ISEC in 2017 was the first stage of the project, followed by the opening of the rust-colored bridge in 2019.
The bridge's swoosh shape is meant to flow very naturally into the larger complex and create a sort of "pebbles in a stream" effect with the buildings, Schaeffner said.
"President Aoun pushed us to do something that no one had done before. I have to give it to him because as a partnership it's amazing," Schaeffner said. "When he's not satisfied, he can't even always explain what it is. But when there's something that bothers him, you know it's for real, and he helped lift us up.
So what will EXP's interior actually look like?
While the building, located at 815 Columbus Ave., bears some similarities to ISEC (it is, after all, another STEM hub on campus), the design is "totally different," Sullivan said. As you enter ISEC from street level, on the right side there are several floors of labs extending above the first floor, but on the left there are smaller "beans or office groups.
"It's a series of clusters of labs that represent about a [half] the length of ISEC that revolves around a central space and it's very small – it's like a connecting staircase that goes up through all the floors. And then the offices are kind of integrated into the perimeter labs," Sullivan said.
Schaeffner described pinwheel lab clusters as "little neighborhoods."
"That's how smaller-scale research groups could actually have their own little community on each floor, so there could be different specialties and different things," Sullivan said. "It was to give Northeastern a different kind of community, they already have a kind of big open lab model, which is in ISEC, and EXP is actually more intimate."
EXP's footprint is about one and a half times the size of ISEC, and it allows for public spaces that radiate outward like spokes on a wheel, Schaeffner said.
"As ISEC turns to the atrium as a space, it pushes these social clubs to the perimeter. It's a reversal in a sense," Schaeffner said. "It's definitely a more intimate feeling. and probably less singular than ISEC. But nevertheless, it harmonizes.
At the center of the pinwheel is a "collaboration center" with conference rooms and other amenities, the architects said.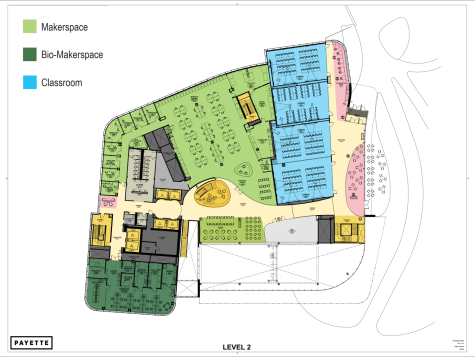 "This public space in the center is a bit smaller than the ISEC space. But the intention is about the intensity of this community of people," Sullivan said. center. And you almost have the opportunity to look at three or four different lab communities simultaneously."
Students returning to campus this fall will likely notice that the walkway between ISEC and EXP is closed, as it has been since May. It is closed until the end of the school year, Valencia said, to facilitate the construction of an underground connection between the buildings.
Once complete, people will only need to be outside for about 50 feet to get between EXP's first floor and ISEC's revolving door, project leaders said.
"One thing about [plaza] connection, we make a utility connection below. So there is a chilled water connection between EXP and ISEC, so there will be a chilled water district," Valendica said. "[It's] just resource efficiency there and I think that's a huge plus on campus in general.
One thing that EXP shares with ISEC is a declaration staircase, although EXP is almost the reverse of ISEC.
"ISEC has this elementary staircase that is in the atrium and [in EXP it] kind of cuts through. It still makes the same floor-to-floor connection as ISEC, but it's just a completely different point of view," Valencia said. "We have some pictures of it during construction, and it already looks cool without any of the finishing touches."
This statement staircase was both McAndrew's and Valence's favorite element of the building and runs from the second floor to the research level at the top of the interior space.
"The structural way it's connected to the building is also a bit different than ISEC – where ISEC is connected at ground level, but it kind of serves as a foundation for it, this staircase is almost hanging from the structure. You'll be able to see the rods that suspend it on each floor," McAndrew said.
Beyond the central staircase, other features include a large, two-story robotic bay with garage doors facing the street – most visible from Columbus Avenue.
Another exciting feature of EXP is an eighth-floor rooftop terrace that will be designed to be open to the campus community in the fall, summer and spring, the architects and project managers said.
"I think the rooftop garden will be a remarkably iconic piece of history and experience," Sullivan said. "If it's allowed to be used, if your Adirondack chairs end up up there, I think it will be very interesting."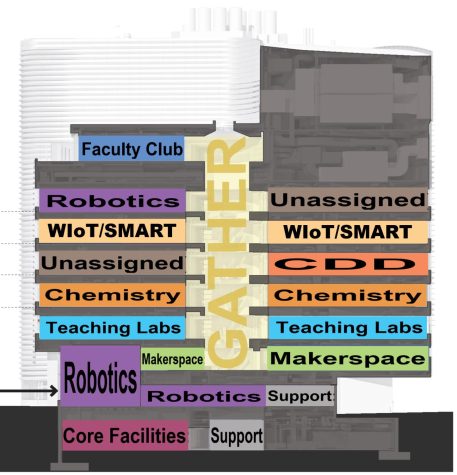 The building is overall somewhat larger than ISEC, with EXP having eight floors plus a penthouse compared to ISEC's six floors. Five floors of EXP will be dedicated to research in everything from "chemistry, biology, physics, engineering, dry labs, antibiotics," the architects said.
"[On] On the ground floor of this building, there will be so many more students taking classes. [With] the manufacturing space, the classrooms, the chemistry teaching labs, all of that — there will be a lot more students," Sullivan said.
Upper floors, just like ISEC, will have seating for students and staff to work on.
The university also plans to have EXP LEED certified, a designation of the building's environmental impact. McAndrew said the goal is to achieve LEED Platinum, a higher designation than ISEC. To achieve LEED Platinum certification, the project must earn a certain number of points by meeting prerequisites and credits by addressing things like carbon, energy and water.
"Were [getting points] via charging stations for electric vehicles [a] nearby garage and also another project that is going to lend Northeastern some points for LEED is a photovoltaic project, so a solar project," McAndrew said.
The vision for the two buildings in the complex was initially "flamboyant, organically shaped" buildings, but in realizing the vision, Schaeffner and Sullivan used climate response as a way to make the buildings look real. For example, ISEC has vertical exterior screens to minimize solar heat gain and help the building operate more efficiently.
EXP also has a rainwater harvesting system, low consumption toilets and furniture from recycled materials. Valencia said throughout the construction process, the university made choices to minimize environmental impact. In the general plans for the complex, the architects included features such as HVAC and air circulation techniques to use clean air more efficiently.
Although the project is still a year away from completion, the Northeast community is set to have a brand new, state-of-the-art 350,000 square foot research facility.