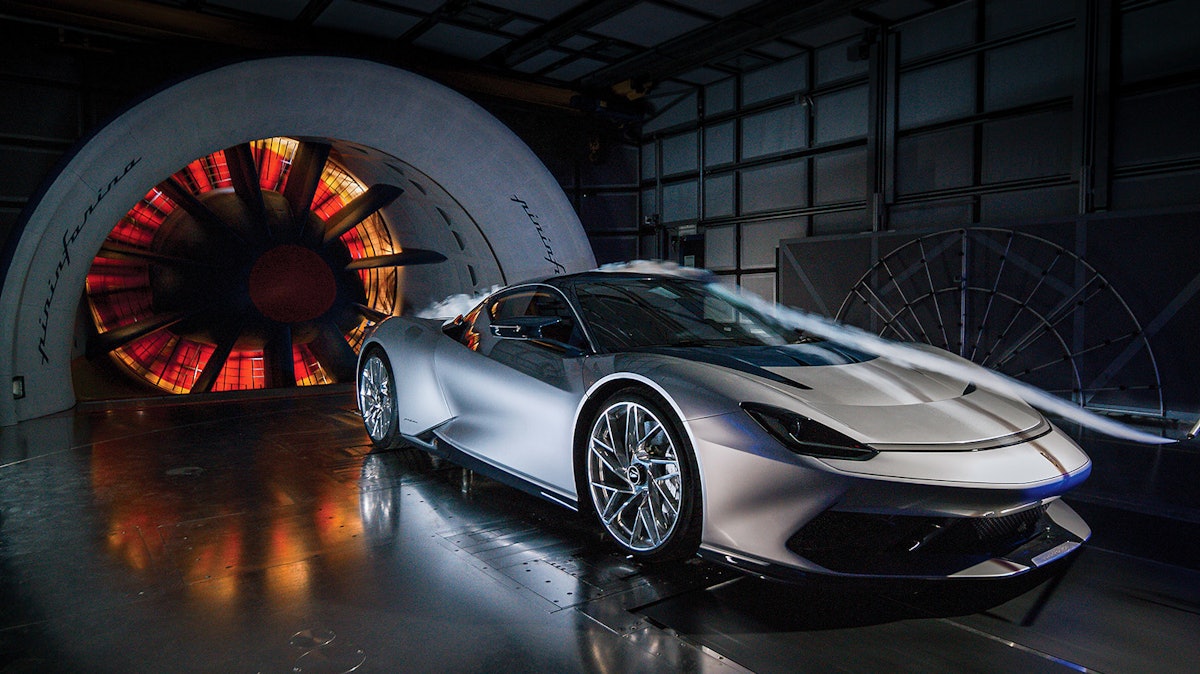 Italy's first wind tunnel for aerodynamic research turns 50
Aerodynamic test on the Automobili Pininfarina Battista electric hypercar.
Pininfarina
Pininfarina celebrates a milestone in aerodynamic and aeroacoustic research. In 1972, exactly 50 years ago, company president Sergio Pininfarina inaugurated the Grugliasco wind tunnel near Turin. It was the first Italian wind tunnel to be built to test full-size cars, at the time one of only seven in the world.
The wind tunnel has always been a strategic tool for OEMs in the automotive sector. The advent of electric mobility, introducing new challenges in the field of aerodynamic and aeroacoustic development, has made it even more decisive in the search for increased autonomy and interior comfort. The wind tunnel has also proven to be a powerful tool for testing and developing products in all sectors in which Pininfarina is fully committed. Examples include airplanes, high-speed trains, yachts, buildings, wind engineering, industrial design, and sporting goods.
"The wind tunnel has given our company a considerable competitive advantage, being the only design company to have one. Born as a tool with which Pininfarina has developed its own projects, today it is a strategic asset for the Group, thus expanding the portfolio of services that we offer to the market: an activity that supports other sectors beyond automotive, from transport to architecture, from nautical to industrial design," said CEO Silvio Pietro Angori.
The Pininfarina wind tunnel has received a new logo specially designed for its first 50 years. The facility is also one of the few in the world to have a Turbulence Generating System (TGS) capable of creating a variety of controlled turbulence conditions associated with wind gusts, overtaking maneuvers, crosswinds and whirlwinds generated by the cars in front. The ground effect simulation system, on the contrary, makes it possible to reproduce the real conditions of movement of the vehicle.