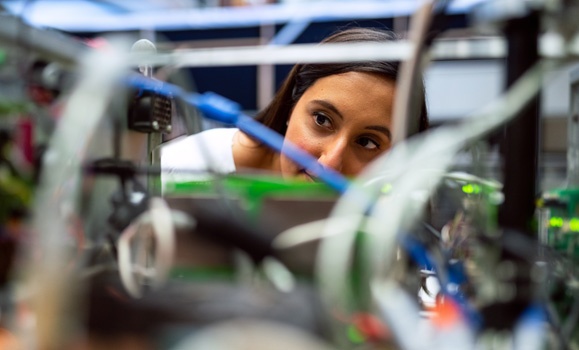 Creating an enabling environment for research to thrive – Dal News
To attract the best researchers in the world, Dalhousie must provide the tools and spaces they need to achieve their goals. To build labs, purchase technical equipment, and acquire state-of-the-art software and hardware, the university receives substantial support from the John R. Evans Leaders Fund of the Canada Foundation for Innovation and Research Nova Scotia, which together provided $3.7 million in new infrastructure funding. .
"Great researchers need great facilities. The support of our funders helps us ensure that we have the cutting-edge research environment needed to continue to recruit and retain top talent from around the world," said Alice Aiken, Vice President of Research and innovation at Dal.
From new capabilities in nuclear magnetic resonance to the creation of spaces dedicated to Indigenous research, Dalhousie is now ready to empower its researchers to engage in some of the most sophisticated research in the world.
Learn more about the researchers who receive infrastructure funding and the research they will pursue.

Understand the signals that allow us to see
Dr. Agosto explores the mechanisms that allow our eyes to sense the world around us and transmit information to the brain. Through experiments in mice and cell culture models, she aims to understand which proteins are needed for signal transmission between cells, how they get to the right place, and how they work together. She anticipates that this work will contribute to future efforts to restore light sensitivity after rod and cone death that occurs as a result of inherited retinal degenerative diseases.
Kiran Banerjee, Faculty of Arts and Social Sciences

Create a lab to analyze forced migration
The number of displaced people globally exceeds 84 million, with 2021 having the highest numbers on record and increasing at an increasing speed. The International Migration Research Lab led by Dr. Banerjee responds to this challenge with technical capacity and methodological expertise to collect, analyze and disseminate qualitative data on migration governance and refugee policy. Equipped with transcription software and equipment, qualitative data analysis software, and collaborative facilities for focus groups and research, the lab enables knowledge generation and mobilization at national levels and internationally.

Why men are more likely to die from right heart failure
When patients have high blood pressure in the lungs or diseases on the left side of the heart, the right ventricle is exposed to higher pressure which can lead to heart failure. Men are much more likely to die from this disease than women. Dr. Chaudhary will investigate how the right ventricles respond differently to stress in males and females and investigate the mechanisms underlying differential blood vessel growth in female and male right ventricles, focusing on the role of sex hormones and blood vessel stem cells. Use the knowledge he acquires; he and his team will develop and test new treatment options for patients with right heart failure.

Examine why inflammation leads to disease
The health consequences of unwanted inflammation have been known for many years in academic and public circles. Ideally, inflammation clears pathogens and damaged tissue quickly to return tissue to its previous healthy state. However, chronic inflammation can lead to inflammatory bowel disease, heart disease, arthritis, and hyperinflammatory conditions, such as those seen in patients with septic and severe COVID-19. Using essential scientific equipment, Dr. Fairn and his research team are working to better understand the mechanisms of inflammation and its contributions to disease.

Taking action to reduce health inequalities
Equity in health and health care is a long-standing political goal, both in Canada and globally. Policy makers are challenged to reduce health inequities due to a limited understanding of how to effectively influence the social determinants of health. Dr. Hajizadeh's research program will use state-of-the-art interdisciplinary methods to examine socioeconomic inequalities in health and health care and their causes, as well as the effects of health and public policies on the health and equity of people. Health care. The overall goal of her research program is to inform the development of policies that reduce inequalities in health and health care.
Sherry Pictou, Faculties of Law and Management

Creating Research Space to Increase Indigenous Engagement
Indigenous research spaces are important for research involving women and gender-diverse people and for building connections between Mi'kmaq and Indigenous peoples and Nova Scotia scholars, government, community and beyond. Dr. Pictou will establish the L'nuey (L'nuey – Belonging to the L'nu – the people) Governance Research Center in Dalhousie to support her work examining a revival of Indigenous women and governance based on indigenous land laws. and treaty relations. It will generate and apply gender-based analysis from an Indigenous perspective to improve Indigenous participation in governance and decision-making processes related to environmental and natural resource governance.
Jan Rainey, Faculty of Medicine

Harnessing Nuclear Magnetic Resonance to Improve Health
Led by Dr. Rainey, this project will establish a biomolecular nuclear magnetic resonance spectroscopy facility at Dalhousie University. Dr. Rainey and his team will use the sophisticated equipment to understand how spider silk proteins can be modified to design new biomaterials that can be used as sutures or for the regeneration of injured nerves. The equipment will also be used to study hormone receptor systems with the aim of creating treatments and preventative measures for conditions such as cardiovascular disease, cancer and viral infections.
Margaret Robinson, Faculty of Arts and Social Sciences

Creation of a Mi'kmaq cultural research laboratory
Dr. Robinson will establish a Mi'kmaq Cultural Research Laboratory to support community-based social science research immersed in Mi'kmaq culture and language. The research lab will conduct community-based social science research with Indigenous peoples, using Indigenous methods and field-tested technology, and support Indigenous data control, access and ownership. The installation will provide a commitment to cultural safety and affirm the space as part of Mi'kma'ki, reinforcing Indigenous belonging in the educational spaces.

Harnessing mountain wetlands for water supply and carbon absorption
Because wetlands remain waterlogged year-round, plant matter in the soil slowly decomposes, making them globally important carbon sinks. However, the role of mountain wetlands in storing and releasing water and carbon is not well understood. The climate is changing more rapidly in mountain regions, which can profoundly alter their capacity to store carbon and water. Dr Somers and his team aim to develop a new understanding of mountain wetlands to determine how best to manage or restore these important landscapes in the face of changing climate and land use and to maximize their ability to provide drinking water and to absorb atmospheric carbon.

Designing early interventions to reduce serious mental illness
Dr. Uher examines the development of mental health and tests interventions to reduce the risk of serious mental illness in young people. He and his research team discovered that mental illness, and depression in particular, are predictable and preventable. He showed that a mix of clinical interviews, speech analysis, sleep and brain measurements can identify risk and resilience and predict treatment outcomes. This funding will help young people participate in a one-stop assessment that provides accurate information about their health and indications for early personalized treatment.