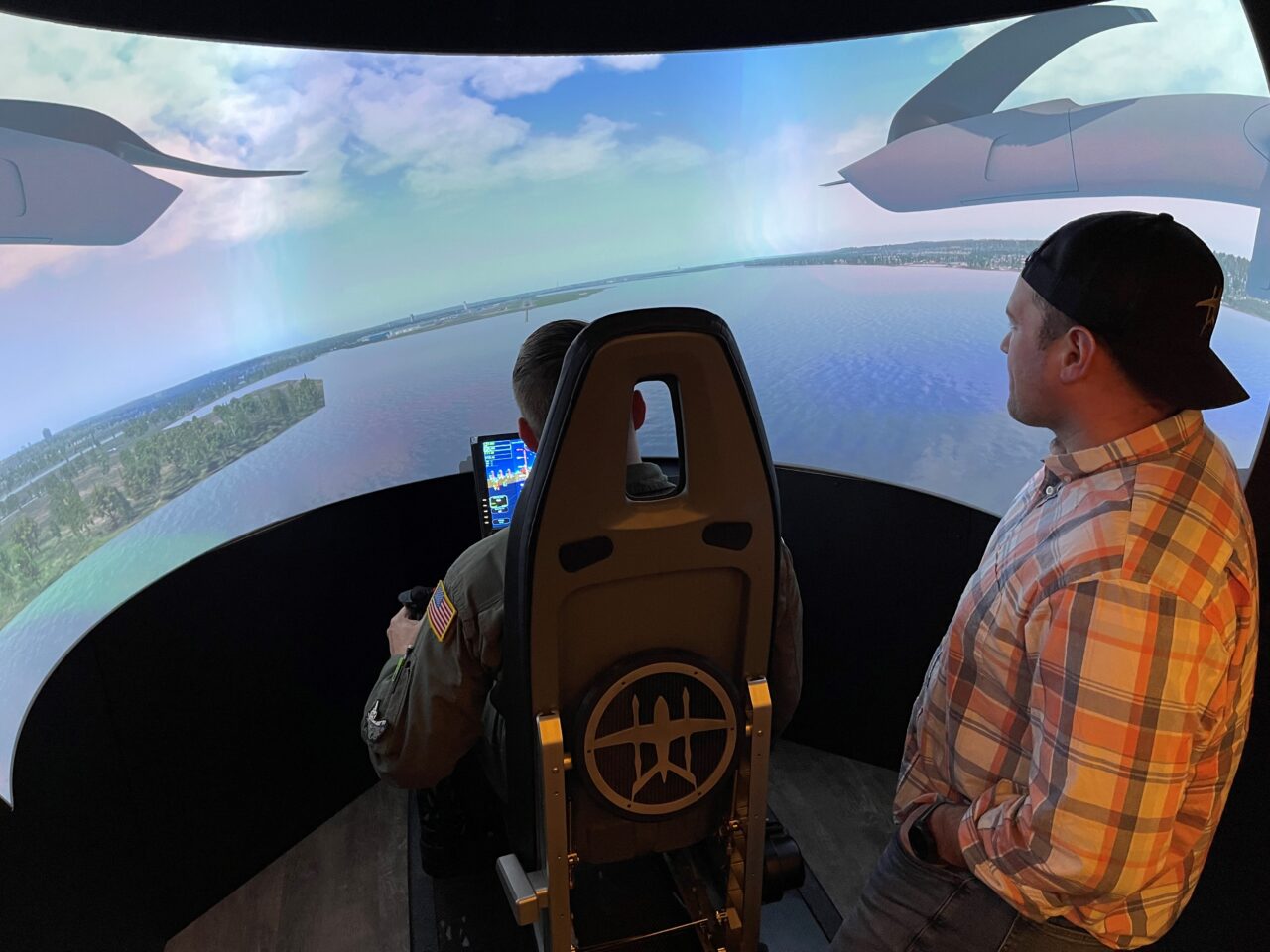 Air Force AETC Begins Research on eVTOL Pilot Training Requirements
Last month, Air Force Air Education and Training Command (AETC) Detachment 62 initiated a research program to define training requirements for flying electric aircraft at vertical take-off and landing (eVTOL). Joby Aviation supplied the first aircraft simulator for AETC research on February 4, and a second eVTOL from BETA technologies was delivered the following week. Steve Ellis, Ph.D., Learning Coordinator for the CTEA, spoke with International Avionics in an interview about their goals and research methods.
Describing the role of the AETC, Dr. Ellis said: "We are looking at how best to train the first generation of eVTOL pilots. An initial assumption was that automating eVTOL aircraft would make training easier, but "the predictions were all over the map – from hours to days to weeks" to train eVTOL pilots. "That made it very difficult to get an idea of ​​what it would take to train a pilot. So our fundamental research is looking at the learnability of these aircraft systems as they are configured today, in using automation and augmentation.
The team's research will focus on how automation feature sets can facilitate learning. Dr Ellis commented: 'I don't think anyone has looked at it from that perspective in the past, how the automation features affect how the plane handles for experienced pilots and how point of view of ab-initio—people with absolutely no piloting experience. Currently, one flight simulator in use has several automated features, including automated cruise control, hover and altitude control, and the other flight simulator is more manual. This allows researchers to analyze the impact of the level of automation on learning and how long it takes a pilot to demonstrate proficiency with (and without) automated or augmented controls.
The measurement of the learning curve is one of the main objectives of research. "We're hoping to get a third, even more automated simulator to see if automation really makes flying easier," Dr Ellis said. "Our flight tests are scenario-based training and education. We will give [the students] a very short but demanding scenario with three takeoffs and three landings.
He described that there is an ideal course in the system defined as the standard for where and how a pilot should fly in the given scenario. "What you have to see is that with repetition, the difference between a student pilot and an exemplary pilot diminishes. We want to be able to map that and create a learning curve; for example, on their third flight, the errors were reduced by a certain percentage. They were able to fly 50% closer to the target trajectory or maintain a constant speed.
Once the research program is complete, the results will inform program designers how long it takes a new or experienced pilot to undergo transition training and learn to fly an eVTOL aircraft. Eventually, Dr. Ellis explained, they could examine "how long it takes for a rotary wing pilot to transition to an eVTOL and demonstrate proficiency as an eVTOL pilot; this is certainly a scenario the FAA wants us to look into. From an avionics point of view, he added, "most of these planes use a Garmin 3000, so they have similar avionics packages, and that contributes to the ease of learning the plane – the ease with which pilots adapt to modern avionics".
In addition to testing avionics and learnability, the AETC will consider pedagogical approaches for learning and training. Dr. Ellis described their approach as "a scenario-based and competency-based approach. Students don't learn to soar in isolation, they do so as part of a larger mission or skill set. It is a more naturalistic learning.
Part of the research includes human evaluation to assess subjective aspects of flight, such as observed skill and confidence. There are also several tools used to collect data during testing; one will capture information directly from the simulator, allowing observation of the pilot's ability to control the aircraft.
A unique element of this research is that the aircraft is still in the prototype phase while training and approaches are being developed. "Normally, in the analysis of a learning system, we don't even start the analysis until the final product is delivered," explained Dr. Ellis. "This is an opportunity for us to get in the field and influence not only training, but also the policies that surround training, and provide feedback to manufacturers on design from a training perspective. As [eVTOL aircraft] are becoming increasingly popular and the demand for pilots is increasing – up to 10,000 per year – what efficiencies can you do to make it easier? In addition to providing feedback to manufacturers, the team also has the ability to inform FAA policy and provide them with useful data.